Learn to teach yoga and develop tools for living a better life
Learn and grow
We don't just create yoga teachers, we help you grow as a person. Get a deeper practice, skills for a healthier life, options for change. Our modular course helps you grow and develop skills as your knowledge and practice does.
Cultivate your talents
We help you see your strengths, both on and off the mat. Your focus will build as you study and train in your peer group. We honour the individual and encourage you to find your own voice and style as a teacher takes time.
Build Confidence
Studying Yoga and how to teach is fantastic for developing life skills. Learn to lead, motivate and support people. Yoga helps us in all aspects of our life and can help you develop a better relationship with yourself and those around you.
This in-depth hands on training is designed to give you everything you need on your yoga journey, whether you want to teach or evolve your practice. With a faculty of senior teachers, and 18 years of experience delivering teacher training courses, you'll be in great hands.
All students start with our 4 day Intensive. You can attend this immersion without enrolling onto the course. This is particularly useful if you're not sure you're ready for the 200hrs. This is also time for you and to deepen your practice.
We will be delivering the Immersions from Harewood Holistics a brand new state of the art studio in the beautiful grounds of Harewood House in the North Yorkshire countryside.
Why choose the Yoga Space Teacher Training?
Experienced Faculty
We have been delivering these courses for 18 years. We choose the very best teachers, offering their knowledge in everything yoga. We guarantee you will feel ready to teach!
Blended Learning
We all learn differently, so the course is a perfect balance of theory, hands on learning and having a go! We take time to understand what works best for you!
Personalised Support
We have a maximum intake of 8 with any key teacher so we can offer the very best support. Our teachers give honest feedback, so you can find out who you really are as a teacher.
Fits your life
Our new approach allows you to fit the training to your life. If you're more experienced it is possible to complete this course in a year. Need more time? Take up to 2 years to complete!
Retake modules
If there are topics you're worried about passing don't fret. Once enrolled you can retake course modules (once) when available within this time frame at no extra charge.
Business Modules
We bring in successful yoga and wellbeing business owners to discuss the business world of yoga and start you on your journey of developing a brand.
Ready to take a step towards change?
It's simple. Complete our online application, meet the team, start your journey!
Our Faculty
Nichi Green
Senior Yoga Teacher
20 yrs experience
Owner of Yoga Space
Sarah Blenkhorn
Senior Yoga Teacher
14 yrs teaching
Ashtanga and Vinyasa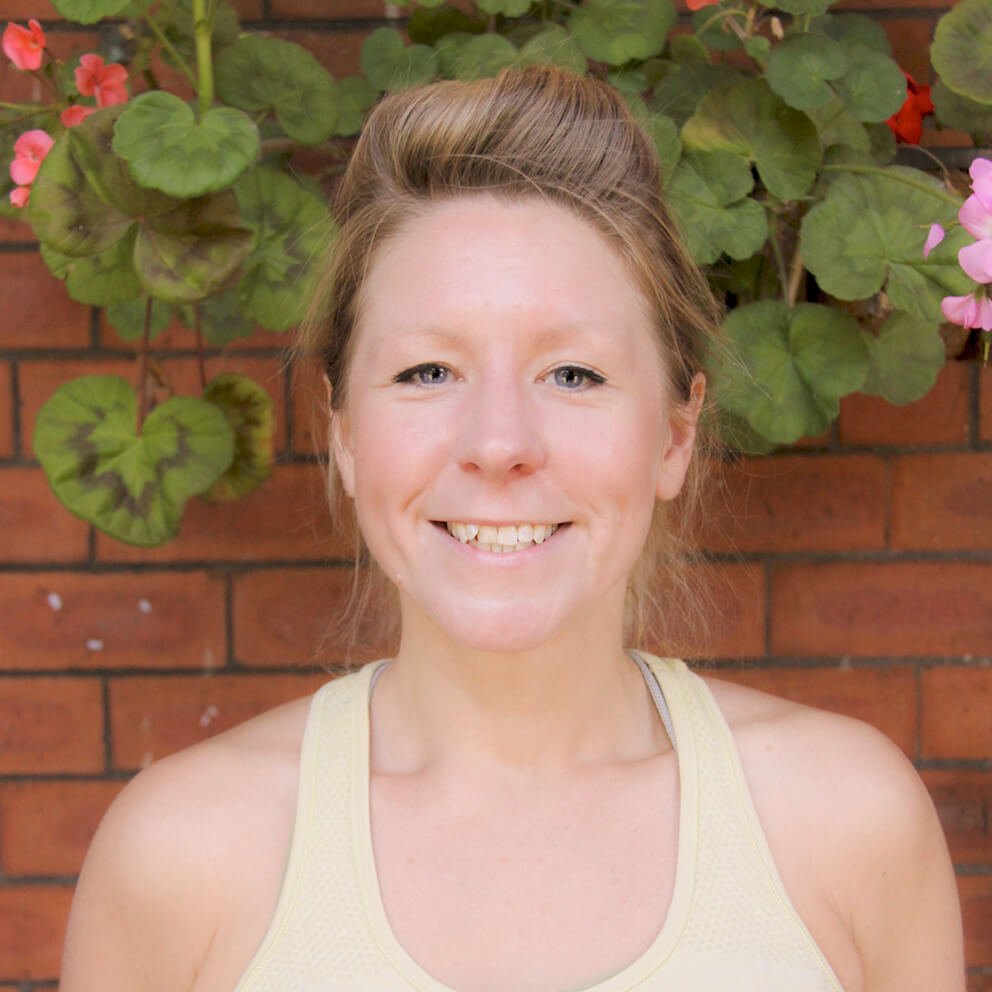 Angela Goodwin
Senior Yoga Teacher
10yrs teaching
Ashtanga, Slow Flow
How the Training is Delivered
Level 1:
The Immersion.
4 days of yoga practice, meditation, philosophy, experiential anatomy + history with individual guidance + feedback.
Content
Daily Yoga, kriya + Meditation practice
History of Yoga
8 Limbs
Pranayama
Journaling and Reflection
Sun Salutes + Teaching
Bhakti Yoga + Soundbath
Daily Anatomy through Yamuna Body Rolling
Expectation
Attend 4 day immersion
2 x zoom sessions
Preparation Homework + Reading
Contact Time 34hrs
Self Study: 8hrs
Dates 2022
August 25th- 28th
November 10th-13th
Level 2:
The Course Begins.
2 days
Content
Yoga class
Mini Sequences- hips, shoulders, core.
Observations
Alignment, anatomy and types of student
Sun Salutations + Teaching practice
Use of voice
Yoga + neuroscience
Expectation
Attend Weekend 1
Begin Observing classes
Write Up Observation
1 x Zoom session with Key Teacher
Teach sun salutations to friends/family and write up.
Contact Time 18hr
Self Study 10-15hrs
Dates 2022
19th-20th November
Level 3
Standing Postures. Firm Foundations. Alignment + Teaching Practice.
2 days
Content
Standing postures
Teaching Beginners
Props + Modifications
Teacher Appraisal + Review
Teaching Practice
Expectation
Attend 2 Day Weekend Module
1 x Zoom session with Nichi or Key Teacher.
Practice teach standing postures to friends/family or peer group and write up.
Start assisting hours.
Attend a day workshop or two half day workshops of your choice.
Contact Time 20hrs
Self Study 15-20hrs
Dates 2023
21st-22nd January
Level 4:
The Seat. How to teach seated postures.
2 days
Content
Adapting for your students
Alignment + Breathing
Meditation
Teaching Practice
Getting to teach
Planning and prep
Pregnancy Yoga module
Expectation
Attend 2 days
Attend zoom session pregnancy yoga module.
Continue assisting hours.
Teaching practice friends/ family/ peer group.
1 x zoom session with nichi or Key teacher on teaching and planning.
Contact Time 20hrs
Self Study 9-12hrs
Dates 2023
18th-19th February
Level 7
Backbends, Finishing Postures + Relaxation
2 Days
Content
Teaching finishing postures
Teaching backbends
Recap progression + Regression sequencing and anatomy
Restorative postures
Expectation
Attend 2 Day course
Essay proposal on specialist area
Teach a public class + write up
Zoom session with key teacher
Contact Time 18hrs
Self study 10hrs
Dates 2023
3rd-4th June
Level 5
Functional Anatomy with Guest Teacher-
2 days
Content
Functional Anatomy
Understanding yoga + anatomy
Group work
Shoulder Joint and Hip Joint
Mobility + Adaptations
Expectation
Reading and homework on anatomy before and after module.
Attend 2 days
Continue assisting hours
Attend a yamuna workshop with Nichi
1 x zoom session with Nichi or Key Teacher appraisal and feedback- checking in.
Contact Time 20hrs
Self Study 5-10hrs
Dates: T.B.C.
Level 8
Business of Yoga
1 Day
Content
Marketing
Yoga Business
Teaching Practice
Group work.
Expectation
Attend full day
Do pre module homework + prep
Continue assisting hours + complete these.
Teach a public class + write up
Zoom session with key teacher.
Contact Time 20hrs
Self Study 10-15hrs
Dates 2023
17th June
Level 6:
The Art of Vinyasa Sequencing
3 day Course
Content
Learn vinyasa sequencing theory
Fuel your creativity
Mini sequences
Vinyasa Krama
Progression + Regression
Themes + Methodology
Practice Teaching
Expectation
Attend 3 day Immersion
Attend 1 Workshop and write up
Devise a 20 minute vinyasa yoga sequence and practice teach
Continue observation hours.
Contact Time 24hrs
Self Study 10hrs
Dates 2023
May 26th-May 28th
Level 9

Assessments, Feedback+ Review Celebrations
1 Day
Content
Teaching assessments
Student feedback + reviews
Expectation
Attend full day
Prepare + Teach a 30 minute class to Nichi and your peer group
Contact Time 6hrs
Self Study 10hrs
Dates 2023
TBC Booked in either early July, August or September depending on group.
Investment £2750
Payable in instalments as you start each level or pay in full and save £250*.
Get started: £300 – Includes course manuals, mentoring and 4 day immersion. Travel not included but lifts can be organised when needed. Help finding accommodation amongst our local yoga community during the immersions and 3 day courses. This fee goes towards your teacher training course even if you decide to start later on in the year.
Ready to continue? Pay another £750 to fully enrol on the yoga course and commit to your training becoming a yoga teacher. Includes zoom sessions and mentoring and takes you up to Level 3
You are starting to practice teach and fully immersed in the course. Pay another £750 to go up to Level 5
You are over half way through your course. Pay £750 to go on to Level 7
Wow you are teaching!! Only £200 to pay now to complete your training. This covers all of your teaching to level 9 for your final assessment
* When paying in full you can pay £390 for Immersion and then pay the remaining balance before the Level 2 weekend!
Note to experienced yogis: you might be able to begin the course at level 2 if you have had a regular yoga practice that includes vinyasa style yoga for a period of at least two years. You should be familiar with asana names and basic alignment principles.
Other things to know about the course
Self Study
Self study is an essential part of the course.
Keep a practice journal, read and make notes is an integral part of your learning and development. You move on when you are ready to.
At least 1 x half day a month should be set aside for completing your written assignments and reading assignments. You will be set work prior to your weekend modules and asked to write up teaching practice as well as reflections on reading, practice and philosophy.
We encourage you to ask questions and make notes on your reading and bring them to your training weekends so we can discuss them on our zoom sessions. We offer an excellent reading list. This time is really for you to immerse yourself in the study and practise of yoga.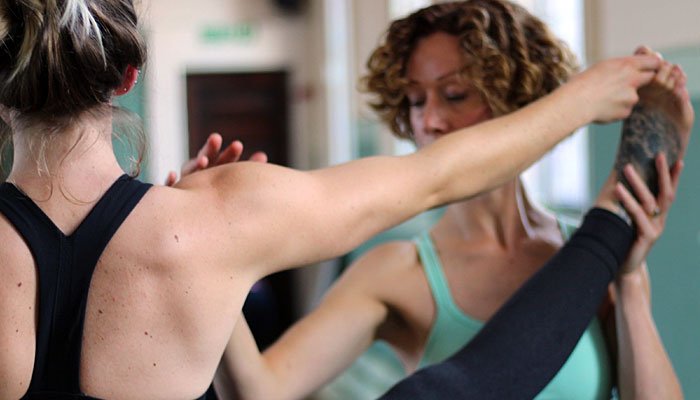 Practicing, teaching and timings
Attending classes regularly with your key teacher is an essential part of your training.
A log of hours must be kept and signed by the teacher when attending or observing a class.
You must observe at least 6 hours of a Beginners level class during the course.
Take up to 2 years to complete this course or complete it within a year.
Study at a pace that works for you and fits in with your work + family commitments.
Plenty of opportunities to practice teach + assist as your skills and confidence develop.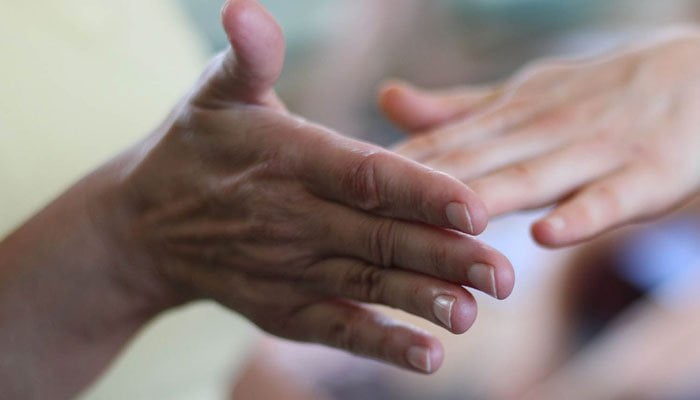 Community
Connect with past graduates
Build Your Yoga community with other trainees
Flexibility to attend classes online + in studio
1 Year access to our on demand video library with over 270 classes Yoga Space Online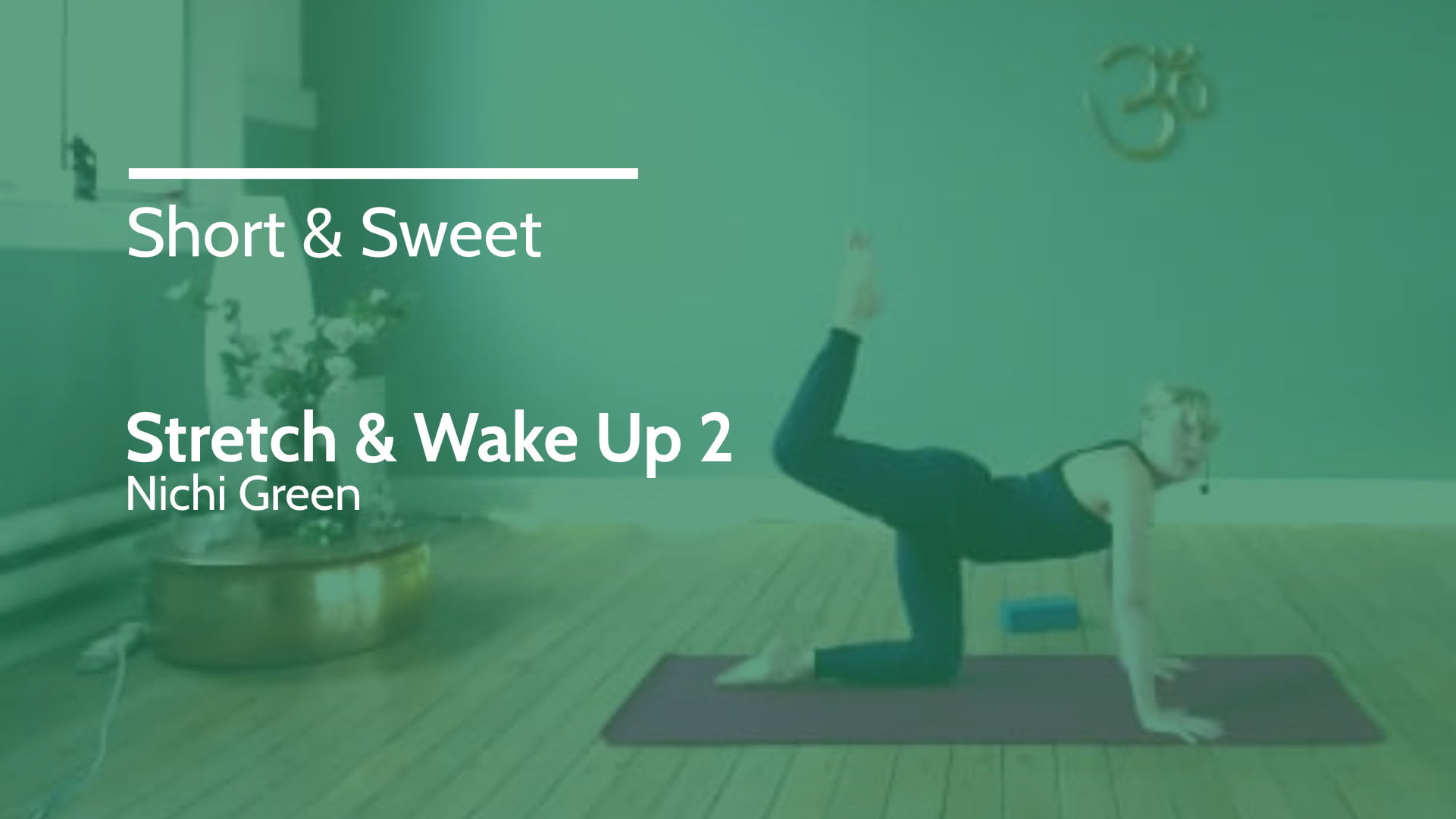 Graduate Support
Keep developing your skills alongside your key teacher
Ongoing mentorship + teaching opportunities once graduate
Access to other courses at a discount.
What our students say…
Intelligently Structured…
" Teaching Yoga is not responsibility free. Students come to classes with varied physical and spiritual needs and a teacher must be prepared to respond. This is what this training provides. The years of experience that Nichi holds in teaching yoga and training teachers transpires into the sessions. The training is intelligently structured to ensure prospective students are taught safely. Do this training and learn how to teach yoga the right way. "

Florian 2022
Developed Confidence….
" I have loved this course. Nichi has become a real mentor for me during this training. I feel stronger than ever in my own practice and have developed the confidence and understanding around a huge range of aspects of yoga. I couldn't recommend this training enough."

Nora 2022

"It's given me the practical and functional skills that are needed in the ever developing and now competitive yoga world. As students we have been pushed and driven to achieve brilliant results. We have had the opportunity to explore yoga through various lenses and have broadened our knowledge and perceptions of the practice. I feel ready to teach and that is rewarding."

Georgie– Director of Soma-Wellness
Challenging + Rewarding…
" Teacher Training with Yoga Space has delivered so much on so many levels. It has been inspiring, challenging, emotional and rewarding. This has been a journey of self-discovery on every level. Nichi has the innate ability to tune into each of her student's needs… I have gained so much more body awareness and my practice is stronger….I started out on this journey just to develop my own practice but I now have the confidence and experience to go out and teach. I am being asked to teach by studios and other teachers. Thank you Nichi, Sarah and my training group. It has been an absolute joy."

Tracy 2022
Ready to start your journey to be a yoga teacher?
It's simple. Complete our online application, meet the team, start your journey!