Teach Your Yoga Teacher Vinyasa Training Course
One specialist course that is designed to provide students the knowledge to teach Vinyasa style Yoga. A very comprehensive, and hands-on course for students who are passionate and dedicated Yoga students. The course is a 200hr Course with options to take extra electives in Kids Yoga, Yin Yoga,( see below) Ashtanga Immersion days and retreats at a discounted rate. The course also includes online anatomy training with David Keil.
200 HOUR VINYASA YOGA TEACHER TRAINING COURSE
A fully comprehensive very hands on training for students who are passionate and dedicated Yoga students. The course is taught by Nichi Green and Sarah blenkhorn and has evolved from over 12 years of experience training teachers to an excellent standard.The course allows you to add in extra elective days in areas that interest you at a discounted rate. The course is very practically based with a strong focus on alignment and teaching practice. A 4 day Ashtanga Yoga adjusting course will be taught by Joey Miles. Anatomy input will be through online Anatomy training with David Keil included in your course fees.
Course Leader Nichi answering questions here;
OVERVIEW OF THE COURSE
The course covers  teaching Ashtanga Yoga and Vinyasa Flow style to beginners and how to adapt and design classes to suit your student group.The core course runs over 23 days and over an 11 month period.You will also be expected to do 20 hours assisting/observing with a Yoga Alliance registered teacher on top of your core course hours.This is course is approved by Yoga Alliance Professionals. At the end of the course you will be able to teach  beginners yoga with confidence. You are encouraged to join YAP as a student once the course begins and it is recommended that you take out insurance with them. On top of the core course you then choose an elective in  Kids Yoga Training at discounted rate. Kids 4 Day course £350. This will top up your course to 250hrs. These electives are optional and kids course can be taken before the core course begins in August 2019.
The Syllabus covers:
History of yoga
Physiology of breath
stretching principles
philosophy
class planning and teaching practice
Functional anatomy
Principles of asana
Alignment and adjusting
Business of Yoga
Use of voice
Shatkarmas
Modifications, yoga for pregnancy
Vinyasa Krama
Hip, shoulder, core and backbending sequences
Inversions
Mysore style practice
Guest Teacher weekend
Terms and Conditions for the course are here; https://docs.google.com/document/d/1DX7pRO1tSrhaQ_-WgLgmBbKfRuiW8_iNq8PunR6B3aQ/edit?usp=sharing
Course Syllabus is here; https://docs.google.com/document/d/1w714xfHYS2tYX62q7CwaL0-uTnqc4dnh6kCo2ZbMJkE/edit?usp=sharing
COURSE  STRUCTURE AND DATES 2019-2020
The course schedule is as follows;
Intro Session with Nichi Green and Teacher Training Students 2018-2019 18th May 2019.
intro Weekend-31st August to 1st September 2019 with Nichi and Sarah
5 Day Immersion with Joey Miles on Ashtanga Yoga and Adjusting- 9th -13th September 2019
Weekend 1-2nd to 3rd  November 2019 with Nichi Green
Weekend 2- 7th to 8th December 2019 with Sarah Blenkhorn
Weekend 3- 6th,7th,8th 9th  February 2020 9.30am to 5pm 4 Day Vinyasa Flow Immersion with Nichi Green
Weekend 4- 25th-26th April 2020 with Sarah Blenkhorn
Weekend 5-15th-17th May 2020 with Guest Teacher- Matt Giordano
Weekend 6 6th-7th June 2020 with Nichi Green and Sarah Blenkhorn
Nichi Green will be teaching 50 percent of the course supported by Sarah Blenkhorn who is also a registered SYT with Yoga Alliance.With input from Joey Miles on Ashtanga Intensive. She is registered with Yoga Alliance Professionals as a Senior Yoga teacher and has been training teachers in Leeds for over 12 years. We also are very excited to announce a guest teacher Matt Giordano for one of our weekends who will be bringing his special brand of detailed anatomy and asana. Check him out here https://www.theyogimatt.com
YOGA ALLIANCE PROFESSIONALS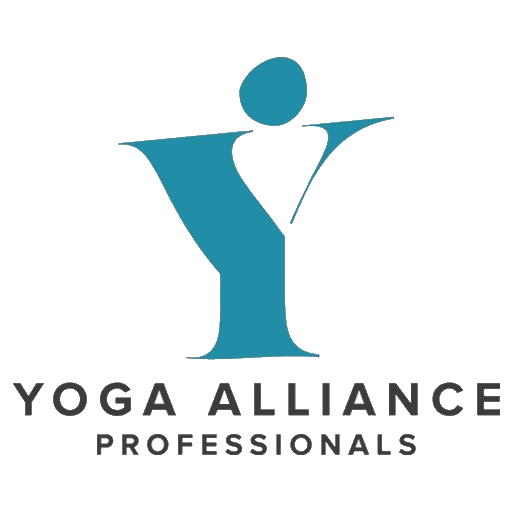 Certified Yoga Alliance Training Centre
Our Teacher Training courses have met the stringent requirements set by Yoga Alliance Professionals. Our graduates are trained to the highest standard and are eligible to register with Yoga Alliance professionals. The course has a set 180 hours contact time and the core teacher is a registered Senior Yoga teacher with Yoga Alliance.
ELECTIVE OPTIONS AND STUDENT DISCOUNT
All of our teacher training students are given a student discount on classes whilst on the course so are eligible to buy a 10 class pass for only £55.Alongside the course you will have the opportunity to take extra workshops and courses at a discounted rate. Some suggested Electives are;
Kids Yoga Training with Nichi Green- Next Course runs 15th-18th August 2019. ( you can take this course if you are registered for the 200 hour which starts in August)
4 day course. Choose this module  A 4 day course to train you to teach 6 to 11 year olds yoga. This course is approved by Yoga Alliance Professionals and is excellent if you want to expand your work possibilities as a yoga teacher. Incorporating games, drama, group work, storytelling, Nichi has devised this course from over 20 years of experience of working with children. You can read our syllabus for this course here https://docs.google.com/document/d/1yxatvZK2vzCmpe0YoNabyb2W
Terms and conditions for the course are here;
https://docs.google.com/document/d/1lAv0OcYBqOFHYLBp4LrbD0EPRNPyBfoY64EOwsd0WQw/edit?usp=sharing
Ashtanga Study Days with Joey Miles and Rachel Woolhouse– Cost £35 Joey is an authorised level 2 Ashtanga Teacher and his study days covering, asana, meditation, philosophy are renowned for offering students a deeper level of enquiry and understanding into the Ashtanga system.  Joey usually runs three of these over a year so there will be plenty of opportunity to attend one.
 Workshops with Sarah Blenkhorn- Cost £15 Sarah is one of our senior teachers at the studio and has a wealth of knowledge in teaching students of different abilities, modifying postures where needed and has a long history of regular practice and study of the Ashtanga system.
Visiting Teacher workshops- We are very excited to welcome Matt Giordano to the studio in February 2020. With his expert knowledge on yoga and anatomy this will be a fantastic weekend highly recommended for yoga teachers and teacher trainees.
ASSISTING AND ADJUSTING HOURS AND SELF STUDY
Alongside the core course students are requested to do 10 hours observing of classes taught by a Yoga Alliance registered teacher who has been teaching for at least 2 years. You can observe classes in any style of Yoga, preferably a mixed level class or beginners. A log of hours must be kept and signed by the teacher you observe.
Once observation hours are completed and you are past your 2nd Weekend of study you will be asked to then start assisting a Yoga Alliance registered teacher. This can be at our studio or a studio nearer to home if you are travelling. A log of hours must be kept and signed by the teacher you assist.
Self study is an essential part of the course. keeping a practice journal, reading and submitting assignments prior to each weekend you attend is an integral part of your learning and development. At least 1 full day a month should be set aside for completing your written assignments. You will be set work prior to your functional anatomy days and asked to write up teaching practice as well as reflections on reading, practice and philosophy.
Testimonials
"… The course has taught me so much.. how to teach yoga effectively, and safely and to different people as well as an immense amount about the wider yoga practice…I never imagined the personal and physical change that I would discover and learn on this course, the dedication that I would practice and the passion I feel for teaching from my learning on the course. Through the combination of homework assignments, observations, assists, teaching practice and workshops. To quote from a book on our reading list; "the more I learned, the more I changed my mind, until, finally, clarity emerged" ( Erich Schiffmann)" Kate April 2018
" My friend asked me the other day how Im so ready to get going and i said its because I chose this course. Its given me the practical and functional skills that are needed in the ever developing and  now competitive yoga world.This course has been an incredible journey that has offered me a fortune of knowledge and experience. As students we have been pushed and driven to achieve brilliant results. We have had the opportunity to explore yoga through various lenses and have broadened our knowledge and perceptions of the practice. I feel ready to teach and that is rewarding. " Georgie April 2018
" I knew several amazing and inspiring teachers who had trained at the yoga space so I knew it would teach me how to teach well the yoga that I love. The course has been challenging in a good way. The more i learn the more I want to learn" Susie April 2018
FEES 200hr Vinyasa Yoga
Investment £2750 if paid in full by start of course. Or pay with an easy payment structure as follows; ( please note the admin charges if paying in this way.)
£1250 Registration Fee – must be paid prior to 30th June 2019  in order to secure a place.
Monthly Installments – by special arrangement only prior to course starting. Admin charge applicable.
Total Cost £2750 is due by end of September 2019.
Have at least two years steady Yoga practice with a qualified teacher. This can be in any discipline of Yoga but asana practice much be of a certain standard with a good understanding of alignment. This will be assessed from application and on assessment day or via interview.
ARE YOU READY?
Yoga teacher training should not be undertaken lightly. Trainees are expected to maintain a regular Yoga practice whilst taking the courses. Homework and reading should be completed in time before each weekend so that the student is prepared. Extensions on homework can be granted but only in exceptional circumstances. Students may be asked to resit or redo modules/ assignments where necessary.
Come to our Intro session on 20th July and meet Nichi and Sarah. Join a vinyasa class followed by a Q+ A and meet a couple of our graduates from last years course. Book here; https://www.eventbrite.co.uk/o/the-yoga-space-4026103819
APPLICATIONS
Candidates will be asked to attend a class at the studio followed by an interview with Nichi. If you wish to be considered for the course please submit an application form. Any questions can be directed to Nichi at info@theyogaspace.co.uk. We take a maximum of 15 students on the course. All applications must be submitted no later than the 25th June 2018.
If you are interested in the course please complete the following application form and we will be in touch.