February sees us celebrating 16 years of  The Yoga Space here in Leeds with our best birthday yet, YogaFest 2020, and it made me think about celebrating our amazing community!
When I think back on opening the doors in 2004 it seems like a very long time ago but I also feel that the way we do things at the studio in terms of teaching hasn't changed so much. I love how yoga brings people together. It's the reason I created the studio in the first place and I love seeing students connect both through yoga
practice to themselves and with each other.
YogaFest 2020
What better way to bring people together and celebrate our community than our  Yoga Festival yesterday?
With a whole day of yoga, meditation, sound healing, massage and meditation classes. Over 50 people came and took part in classes and there was a good deal of laughter , chai and vegan cake consumed as well as new friends made. It also gave us chance to really christen our new mezzanine level above our reception area. Students love the new chill out space!!
Tuning in to Tanja
Tanja ran back to back sessions in sound healing and massage in our lovely chapel studio. She's been with me at the studio since we opened.. Wow!!  You can book massages with Tanja at the studio on Tuesdays and Saturdays and you can book with her directly by calling 07904 833164. She also offers sound healing sessions with crystal bowls and tuning forks.
Flying High
We had some fun with an Acro Yoga session run by one of our students Helen. So many smiling faces as people tried this for the first time!! Check out the group acro yoga leeds on facebook for info on weekly acro yoga meet ups. They often meet up outside in the summer.
The Yoga Space Shop
We also launched our little shop. We are loving the Tibetan shawls and copper coloured water bottles. Hopefully they will give you another option instead of using
plastic bottles into the studio! Look out for monthly competitions and raffles and congratulations to the 5 people that won prizes yesterday.
Charity and Community
Part of the ticket price yesterday went to our #yogatreesplease fund raising project. We raised £250 to put towards tree planting and were lucky to have the woodland trust come and join us for the day. Do you know you can join this wonderful organisation and just donate what you can afford every month? We hope to get out and help plant some trees soon and get involved in some conservation work so look out for that.
Celebrating our Community
It was a wonderful day with some old and new faces. Thanks so much to all of our students for supporting the studio and sharing your yoga practice with us. We hope to continue to bring people together and have more community events planned and fundraising over the next few months. Keep an eye on upcoming events on our classes, workshops and retreats pages.
We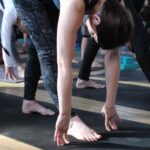 would love to hear from you if you have a patch of land where you want to plant some trees or you have some ideas on how we can help as a studio a conservation project you want to fundraise for.
We look forward to seeing you soon.
Love and light
Nichi