Meet The Yoga Space
Practice in this unique and relaxing chapel. With high ceilings and stained glass windows, you can't help but relax. Built in 1860- this is our Yoga home.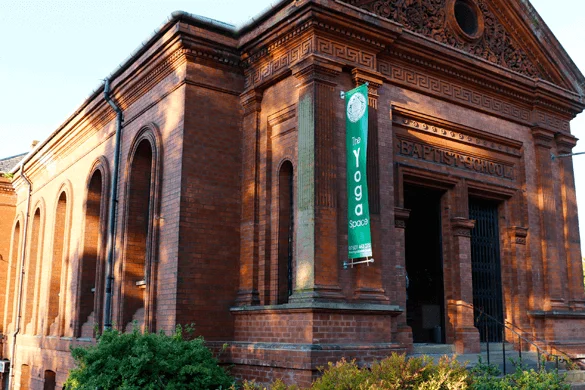 Established in 2004, The Yoga Space has a strong reputation for excellent teaching and an authentic Yoga experience. We shy away from Yoga trends and deliver real Yoga for all ages and abilities with a strong emphasis on the breath. Many of our teachers have trained here, study here and are very much a part of the studio culture.
Contact Details
What We Do
Our aim is to offer Yoga and bodywork that delivers a healthier, happier and stronger you. We offer classes, workshops with international and U.K. visiting teachers, holidays and Yoga Teacher Training. We also have a massage therapist on site on Tuesdays and Saturdays. We can offer private tuition at the studio, in the workplace or at home.
Everyone is welcome. We have students from all over the world. We understand that starting your first Yoga class can be a daunting experience. We want to make it easy for you because we know that Yoga is life changing and we want you to love it as much as we do. Starting is the hard part and equipment is provided. Just wear loose, comfortable clothing you can move easily in.
Our Teachers
Between us we have studied with many teachers and it would be hard to name them all but we really have to give thanks to these ones. The legend that is Brian Cooper who has trained Nichi, Sarah, Angela, Gerry, Isobel, Jenny and Alex. Thank you Brian. Pattabhi Jois, Sharath Jois and Manju for giving us Ashtanga Vinyasa Yoga. B.K.S Iyengar for his brilliance, writings and teachings. Shiva Rea for her wonderful flowing Vinyasa Yoga and Sharon and David Gannon for Jivamukti. Ultimately we have the godfather of modern vinyasa yoga Krishnamacharya who started teaching vinyasa and movement with the breath. We are all forever teachers and students.
Our creation is that guru the duration of our lives is that guru our trials, tribulations, illnesses, calamities and the death of the body is that guru . There is a guru nearby and a guru that is beyond the beyond . I make my offering to the remover of my darkness, my ignorance; it is to you I bow and lay down my life .